Try These Tips to Tackle
Five Organizing House Trouble Spots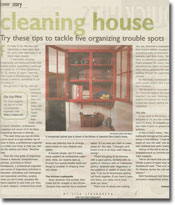 For many of us, the new year represents a clean slate. And for some, that clean slate is all about clean closets.
"I have been studying [organizing] and taking seminars and reading books, everything I could get my hands on. I've been absorbing it for 10, maybe 15 years," Jeannine Rice-Crabb of Appleton said. "I just needed a catalyst, something to get me doing it."
She got that in spring, with her husband's imminent return from two years away with the Army. That's when Rice-Crabb called on Jenny Strachan, professional organizer and owner of In Its Place Organizing Services in Neenah.
"The best thing you can do when you're stuck is to get another set of eyes in there, a professional organizer or a sister you trust, to help you realize the options you have," Strachan said.
Then the nitty-gritty of organizing follows a relatively straightforward process, according to Sheryl Ruedebusch, a professional organizer and owner of Organizing Unlimited in Menasha: evaluating your belongings and associated activities, purging what you don't need, grouping like items together to see what you have in each category, containerizing small items and planning how to arrange items based on your lifestyle and habits.
It sounds simple, but if it were, there wouldn't be professional organizers. Here, our experts take us through five typical trouble spots and things to consider in whipping them into shape:
The Kitchen Cupboards
When Strachan first arrived, Rice-Crabb led her straight to the kitchen "because that seemed like a confined space. It's an area you need to make sense of," she said. "I thought we'd knock it out in an hour, and I was so wrong."
"There are going to be kitchens with a good pantry, kitchens with no pantry or kitchens with an inadequate pantry," Strachan said. Regardless of the existence or caliber of yours, she said, "I do try to recommend getting (all food) together. If you have it here and there, you really won't know what you have."
That's true of spices and cooking oils, too. Strachan's excavation of Rice-Crabb's kitchen revealed some interesting finds on that front. For example, said Rice-Crabb, "Why do I need 14 shakers of seasoned salt? That's probably too many." And that's something she might not have discovered without grouping like items in walking through the organizing process.
On that topic, Ruedebusch said many people should take a cue from their kitchens.
"We all seem to know how to put our forks and spoons and glasses together," she said. Following that pattern throughout the home can go a long way toward getting the place organized.
The Pile
It can form in the kitchen, in the entryway or on any flat surface. And once it's there, its magnetic properties make it grow to gargantuan proportions.
In Rice-Crabb's home, "the pile" habitually formed on the same countertop in her kitchen. "I had things taped all over the wall," she said. "It was cluttered and awful looking."
Taking on the pile is not as straightforward as common knowledge suggests.
"We've all heard that you should handle a piece of paper only once," Ruedebusch said. "That only works for Kleenex during the cold and flu season."
Both Ruedebusch and Strachan advocate a streamlined active filing system for dealing with the daily influx of papers. This might be a bin or desk drawer near where piles normally form.
Ruedebusch said that this system should have "a file with each day of the month and each month of the year." That way, you can place an item immediately into the slot for the date on which you need to deal with it — say, the RSVP date on an invitation or the date that tickets for an event go on sale.
To make things even more efficient, Strachan offered this tip: "When you have that new piece of paper and you're filing it on its side, take a moment to write on the edge what that paper is." That way, you can see what a file contains without removing and rifling through its contents.
The Entryway
Ruedebusch recommends that rather than looking despondently down at the heap of footwear on the floor in the home's main entrance, clients should look up for organizing options. "I like to see every bit of vertical space used," she said.
Strachan agrees. "Looking at things that can go on walls is a big thing," she said.
A narrow cabinet, some coat hooks or a mail sorter can provide close-at-hand stowage for the things you're carrying as you come in or will need as you go out.
Keeping near-the-door storage simple to use, especially if you have kids, may mean the difference between tidiness and chaos. "If you expect your family to come in and walk 30 steps to the so-called coat area, it's not going to work," Strachan said.
The Junk Drawer
For many of us, the junk drawer serves as a psychological release valve — a place we can put those things we just can't deal with at the moment.
"If you're still going to have a tendency to stash a little bit, a junk drawer is OK," Strachan said. "Just limit it to one."
Ruedebusch takes a slightly harder line. "In Sheryl's perfect world, there are no junk drawers or miscellaneous files," she said. "I like to have someone take everything out of that junk drawer. You'd be surprised what ends up in there."
All that random stuff should then be sorted. "Once you've separated things into like items, you'll know what size containers you need" to divide the drawer into smaller, logical entities, Ruedebusch said.
The Black Hole
For some, a tiny junk drawer won't do. Many homes have an entire room to contain their extra stuff. This is what Ruedebusch calls "the black hole" — the guest room, basement, garage or any space that doesn't see as much traffic as the main living areas. We typically close the doors on these spaces in an attempt to forget them.
When working with a client on such a space, Strachan said, "I'll do a lot of questioning on how they want the room to function. It might be looking beyond that room for the best place to store something." Then it's a matter of getting things where they belong and keeping other misfit items from creeping in.
After all, organizing at its most fundamental is decision-making. "Once you're organized, there's going to be more stuff coming into your life," Ruedebusch said. "You have to make good decisions on how to handle that stuff coming at you."
---
By Lisa Strandberg
For The Post-Crescent
December, 2007