Is It Time to Clear the Clutter?
If you're looking for a professional organizer in the Fox Valley, WI, area that is willing to jump in on any size project, then you've come to the right place. Jennifer Strachan has many years of experience helping people get their personal and work environments organized and manageable. She gains great satisfaction from helping clients set their homes and businesses into a more streamlined experience of being organized.
Becoming more organized will help you, too, to become more efficient in your daily management of living. Not only that, having everything in its place can also bring satisfaction from knowing your things are manageable and uncluttered. When searching for a professional organizer in the Fox Valley area, Jennifer should be first on your list to call. Helping you organize your life is her passion.
Some Things to Consider
* Do you park your car outside because your garage is piled high with "stuff"?
* Are important papers missing–marriage licenses, birth certificates, insurance records, product warranty information, tax papers?
* On a regular basis, do you spend more than five minutes looking for something?
* Do you buy duplicates of things because you can't find the item at home although you know you have it somewhere?
* Is it hard to get through doorways because of things in front of (or behind) the doors?
* Do you have to use the kitchen table as a work surface because your desk is piled high with papers?
* Do you dread getting out holiday decorations because they're buried under a mountain of odds and ends?
* Do you keep saying you need to get rid of things and get organized, but don't know where to start?
The fewer steps it takes to have
organized systems, the more likely
you are to maintain them.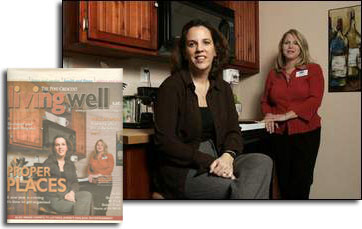 Certified level II chronic
disorganization specialist
and member of:


In Its Place Organizing Services
920-725-2502
920-419-1828

Some Other Sites to Check Out: